Enforce Compressible Dense Mixer
Front Feed Type & Rear Feed Type For Dispersion Kneader Machine
Speciality For Dispersion Kneader (Rear Feed Type)
The mixer machine has an automatic temperature and time control system to provide a 100% mixing effect.
Easy to clean chamber and changing colours.
It mixes compounds in 6~10 minutes per batch eQur/alent to 2 units of mixing roller.
Pressurized and sealing mixing chamber to provide high mixing performance and prevented environmetal pollution.
Easy to installation operation and maintenance lower running cost.
Most Suitable Kneading Application For Dispersion Kneader (Front Feed Type)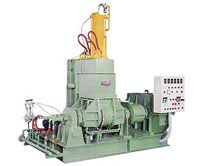 E.V.A. rubber & tpr, sole, rubber roller, hoses, belts, sponges, sportbolls, vibration insulator, elastic cord, sealing materials, tire, tapes, master batches, pigment, ink, automobile & electric rubber parts, chemical industry compounds.
Diagram of Three Dimensions
Brake Motor
Main Driving Motor
Gear Box
Rotor
Circumgyrate Adapter
Pressure Lid
Pressure Lid Cylinder
Mixing Chamber
Chamber TiltingDevice
Feed Gate
Feed Gate Cylinder
Dust ProtectiveCover
Dust ProtectiveCover Cylinder
Power Distribution Diagram
Middle Reduce Pressure
Mixing Time Setting Device
Mixing Time Man-Auto Switch
Segment Timer
Segment Timer Button
The Fourth of Selector Switch
Mixing Process Man-Auto Switch
Alarm
Temperature Control Setting Device
Temperature Indicator
Temperature Man-Auto Switch
Dust Collector Switch
Dust Collector Indicator
Feed Gate Button (Rear)
Dust Protective Cover (Front)
Pressure Lid Button
Mixer Chamber Button
Main Motor Current Setting Device
Main Motor Button
Power Voltmeter
Power Indicator
Stop Button
Size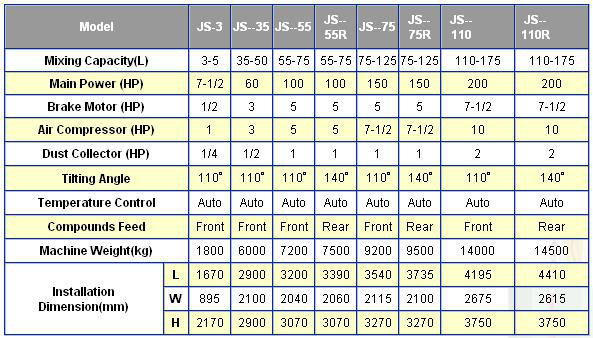 Mixing Axle